AG Fernerkundung-GIS (Braun)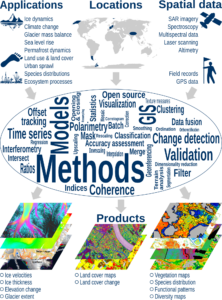 Our research focuses on aerial and satellite imageanalysis as well as geographic information systems. We use timeseries of optical earth observation systems in various spatialand spectral resolutions, from synthetic aperture radar systems(SAR) as well as other imaging and non-imaging sensors incombination with field measurements.
Our applications are in the field of glaciology and the effects ofclimate change on the cryosphere, including changes in icedynamics, glacier mass balance and contributions to sea level orproperties of snow and ice. Analyzes of land use and land coverchange are also important components of our work, such asapplications in the field of nature conservation management,biodiversity research or studies on ecosystem functions.